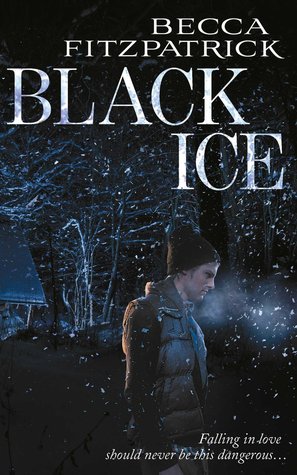 Black Ice by Becca Fitzpatrick
I tried, I really really tried. I just couldn't finish it. I've started and restarted this book a few times and each time I ended up having to put it down and say "Really? Are you kidding me?"  Let me go back to the beginning and how I got to this frustration with the book. I was walking through the books section in my local Target (it's like a freaking black hole, I HAVE to buy a book every time I'm in there, it's awful) and the cover of this book caught my attention. I pick it up, read the synopsis and wow, that caught my attention too.
I didn't check reviews on Goodreads or Amazon on this book. This was my first mistake.
Get my book purchases home and I start reading. So far so good, the idea that a 17 yr old girl's father would allow his only daughter to go hiking alone with only her girlfriend, in the mountains is pretty far fetched. But hey, this is fiction and anything can happen including poor parental decisions. Britt is pretty obnoxious, a liar, manipulative…so basically a typical teenager (oh how I hope my children end up not typical, please let some sort of body snatcher thing happen and they end up perfect) and hell bent on making her ex boyfriend Calvin jealous by hiking the Tetons with her best friend (who happens to be Calvin's sister) for Spring Break.
Two stupid girls make stupid decisions and unfortunate events happen (I don't want to give spoilers in case you actually want to read the book after I sit here and beg and plead with you NOT to waste your time) which lead the girls being held against their will. So you think, "Ok, the girls have to use their wits and get out of this. This could be good!" That was mistake number two that I made…being hopeful. No, no the girls do not.
Britt ends up trying to get away from her captors yet lusting after one of them all while feeling confused about her feelings for her exboyfriend who cheated on her. GET SOME SELF RESPECT! At this point as I'm reading, I'm killing her off. Each scenario that comes up, I'm making like one of those stories where you make the decision for the character. But my decision is always "Britt jumps off the cliff" or "Britt falls off the side of the mountain never to be seen again."  Which is a sign that I need to stop reading.
I got farther then 1/2 way done and just had to stop. Britt is lusting after her captor. This is Stockholm Syndrome folks. Nothing to glamorize here. Ladies…if a man kidnaps you it's not because he's dreamy. IT'S BECAUSE HE'S PSYCHO. If a man allows his friend to kidnap you….again….IT'S BECAUSE HE'S PSYCHO. There is nothing sweet, romantic or cute about it.
So here I was thinking, I've tried reading this book twice. The weather is nice, maybe third times the charm right? I was wrong. I was wrong wrong wrong.  I literally threw my book. Which made me die a little bit inside because that's book abuse. These were mistakes three and four.
I'm not making anymore mistakes, I'm going to place my book on my shelf never to be read again. Which is unfortunate, but those hours I spent trying…I'll never get those back. And while it's sort of fun killing off characters in my head. I could be doing that with my own characters in my own stories….and be productive with my writing.
Tomorrow I'm going to read a shifter romance to cleanse my reading palette. *fingers crossed no book abuse ensues*
Night!!